On Monday to Tuesday, next week, we are gathering the persons who are top responsible for their company's wind farm operations, among our members. One item on our agenda is: global turbine-specific owner-2-owner communication.
The latest tool in our toolbox
At the meeting, we will launch our brand new messaging app: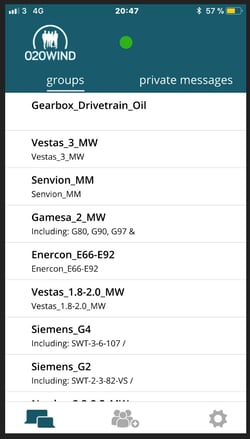 Family by family
Currently, we are creating one big portfolio of all our member's portfolios and are dividing it family by family. As an example, we could then have one family called the Nordex 2.3-2.5 MW-family, who then has 4 family members: The N80, N90, N100 & N117 turbine models. In our case, we have 11 different companies owning these turbines. On the app we could then create a channel called "Nordex 2.3-2.5" and then site managers, asset managers and technicians, from these 11 energy companies can link to this channel.
Now, how this is done is decided by the owners. We will just bring them a good overview of how many turbines we have in each family and which energy companies we have as owners for each family.
Most popular topics
Prior to the meeting, we will go through all dialogs that we have had at O2O WIND since we were founded in October 2014. From each discussion, we will extract each keyword and then simply count how many time each keyword/topic has occurred. "Gearbox" could be one topic and will be given one point for every time it appears. At the end of this exercise, we will sort them on how many time each keyword has been mentioned and then we will have a neat ranking for which are our most popular topics.
These will also be presented as an overview and then the owners will decide if they want to take some of these keywords and create a channel on the app. Maybe they want a channel called "Foundations" and then link in their engineers involved in foundations.
Very rare but valuable topics
I am in contact with one person working for an owner who has a lot of offshore turbines. He is an expert on emergency repair planning for subsea cables. He wants us to gather these experts from the various offshore owners. If we would have a channel called Subsea Cables it will have very few people. They could then choose to have only this channel activated. But for those few times they will have a notification from the app, they know that there will be another extremely specialized cable-nerd, reaching out on the app. Now I can deliver this service to this person, without any background noise.
A pure obligation

Next week I will be persistent in creating an HSSE channel. That should be a pure obligation among the owner. Well yes, there are some differences in legislation, standards and safety culture, that can make some issues difficult, but it could save lives and a bet that every linked in HSSE expert would have a look for each notification.
Our only closed channel
At O2O WIND we mainly discuss how to make things right. Some of the heads of operations have been arguing that they would also like to discuss: "are we doing the right things?" - with other heads of operations. Although they would feel less comfortable doing so with all their co-workers linked in. To solve that we could create a channel called heads of operation that would then be open only for Heads of Operations.
Best of all

Next week Statoil is hosting our meeting at their office in London and the meeting was announced months ago. Since March the app has been available for Android users, but not for iPhone users.
At the beginning of this week I have been thinking hard about how we should do the launch of an app, that is not in Appstore. In my thinking, I sort of never arrived at the punchline.
Yesterday our dear developers, based in the Austrian Alps, announced that it is now available for iPhone users as well. So, best of all - we do not have to launch something that hasn't been launched!
Kind Regards
Mårten Nilsson, Head of Collaboration at O2O WIND International